Fusing Artificial Intelligence with Agile Human Cognition
Your business strategy is only as effective as the data underlying it. It is not possible to obtain good insights from bad data. 6Estates' AI Technology will boost data richness by helping to process, analyse and understand the complex digital chatters online.
How We Do It
With a combination of knowledge & data driven methods, we translate unexplainable AI without semantics to explainable AI with semantics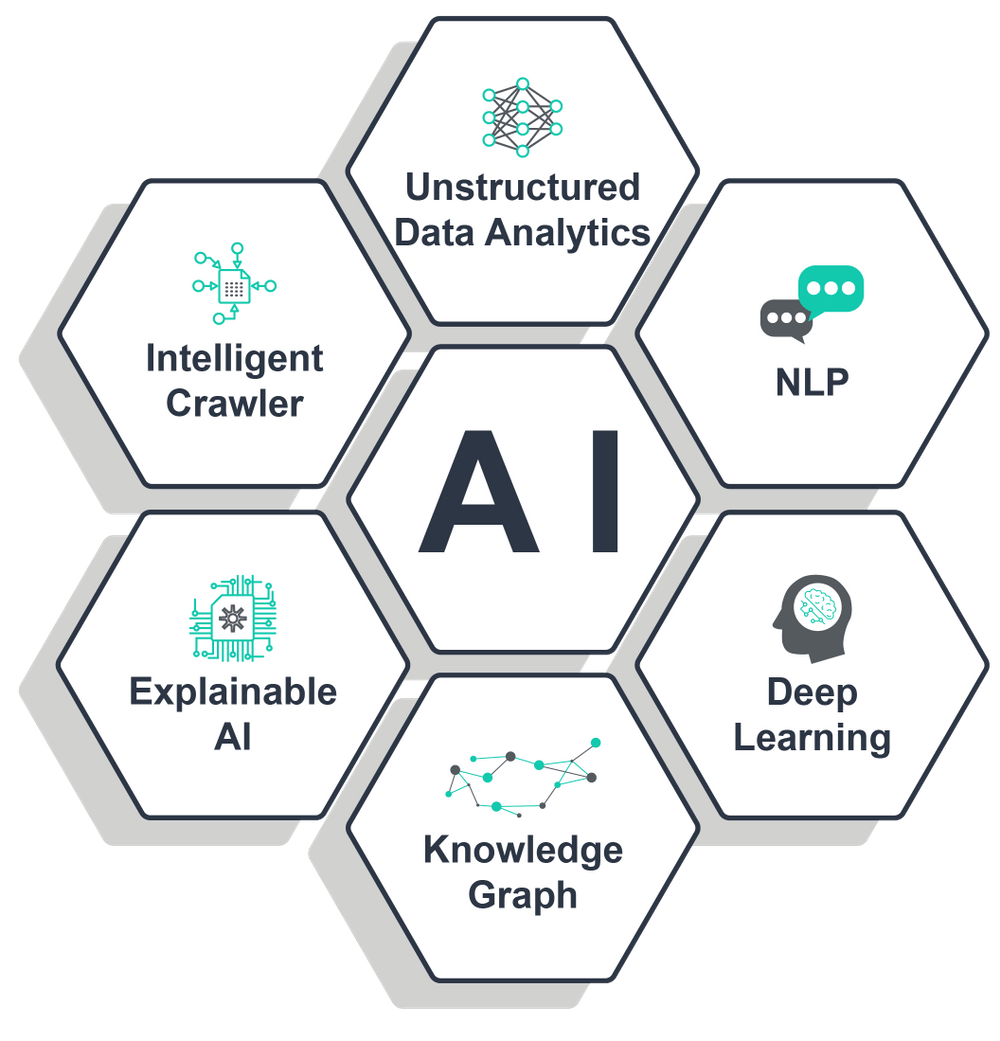 Natural Language Processing (NLP)
6Estates is a NLP technology leader, especially for processing Chinese language content with 93% accuracy. We index and categorise the data, providing only relevant content to your search. Our proprietary text processing algorithms and knowledge base instantly identify linkages of organisations, people and location. We own more than 30 NLP and text mining algorithms based on deep neural networks models and probabilistic graphical models, helping to perform in-depth analysis of Chinese & English content.
Deep learning
Deep learning model combines data and knowledge for language translation, comprehension, and image understanding. Combining deep learning with attention modelling helps to visualise and make models more explainable.
Explainable AI
To achieve explainable AI, we compute and visualise the relevance between two arbitrary neurons in a neural network using layer-wise relevance propagation. We focus on reinforcement learning, transfer learning, and adversarial learning to support small data learning under low-resource conditions.
Knowledge Graph (KG)
NLP collects semantic analytics, and provides consumption signals and indicators. Knowledge graph will turn these signals and indicators into knowledge of the customer journey and behavior. We build domain specific ontology and knowledge graph for different industry verticals such as finance, entertainment and F&B, to mine implicit entities and discover unknown relationships for casual analysis.
Unstructured Data Analytics
Fusion of data from multiple unstructured data sources: user-centric vs. information-centric, and structured vs. unstructured. Discover communities with user info, detailed domain info, user profile mining and knowledge discovery.
Intelligent Crawling Technologies
Distributed intelligent crawling ensures representative and relevant data in real-time.
With technology and our in-house Consumer Insights research team, noise and chatter online is reduced, research process quickened and time to obtain relevant insights is improved. In turn, more effective business strategies will be carried out.