6Estates collaborated with Clozette, an online community platform where members share news and trends based on three main categories: fashion, beauty and lifestyle. Clozette community users are predominantly millennial females. These users will share images of their carefully coordinated OOTD (Outfit of the Day)- clothes, bags, shoes and accessories. Part I of III focuses on the fashion trends uncovered while analysing over 26000 posts.
5 Fashion Trends Discovered from Analysing Members' Posts: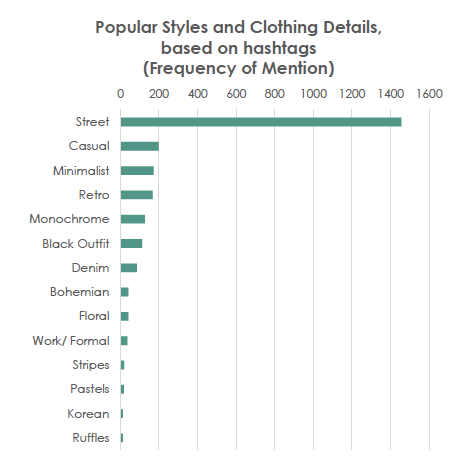 Street Fashion is the Most Popular Style
While street fashion is the style with highest mention frequency, it should be noted that street fashion is a much broader category than maybe, denim which is a specific material.
In contrast, work/ formal wear is not as popularly talked about by users. This could be due to members' preference for casual and street clothes. Although they may wear formal wear for work, they do not post about their outfits as often as when they are in their private time.
2. Simplicity and Casualness are Qualities Appreciated and Worthwhile for Post
Casual and minimalist are the top 2 and 3 styles. On the other hand, more flamboyant styles like Bohemian or clothing details such as stripes, pastels and ruffles are not as popular. This might be because users naturally do not single out specific details of their outfit, but prefer to comment on the overall look they were going for.
3. Korean Fashion is One of the Top Cultural Influences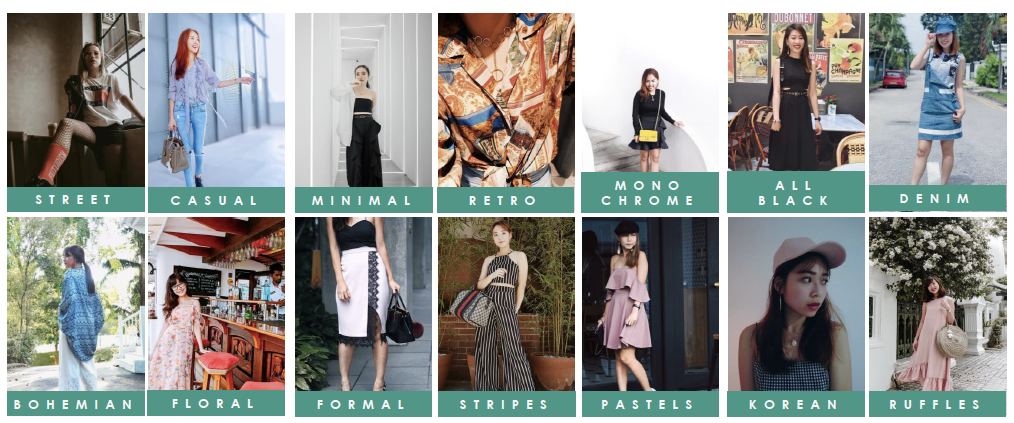 Street style with a korean twist is an all-time favourite within Clozette community. Street style supposedly emerged not from fashion studios, but from grassroots. It is usually associated with individualism and self-expression, rather than focusing solely on the pursuit of fashion trends.
4. The Two Classic Colours- Black and White

Black and white are popular colours because they are versatile and can be easily incorporated into the outfit such as sneakers and tops.
Pink is also a popular colour for those who want a more feminine look. Gold usually refers to rose gold, and applies to accessories like watches and smaller articles like sandals. They work as accents to the entire outfit.
5. Popular Online Shopping Sites are Mainly from Singapore and Philippines
This is probably because Clozette users are mostly from Southeast Asia.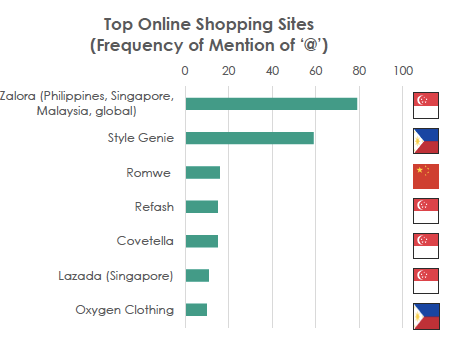 Singapore is the base or the country of origin for half of these most popular fashion brands that have been shared by Clozette users.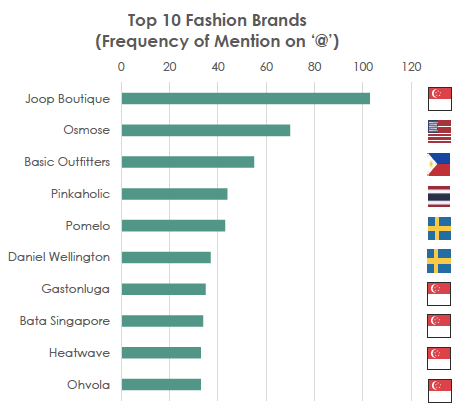 The remaining five brands are from a mix of Southeast Asia (Philippines and Thailand) as well as from Europe (Sweden) and the US. Most of these fashion brands seem to be mid-priced fast fashion brands such as Basic Outfitters, Pomelo, Bata. There are a few exceptions such Daniel Wellington (advertised as affordable luxury watches) and Gastonluga (seen as premium and trendy backpacks).
Application of Insights
The data collected from a highly popular fashion community platform can provide excellent insights for fashion brand owners on consumers' likes and dislikes, the latest trends in the market, and what they can do to improve on their offerings.
Stay tune as we analyse on Beauty and Lifestyle categories from Clozette members. Discover the popular makeup and skincare brands these millennials use, their favourite activities for relaxation and destinations for vacations next.