In the previous post, we looked into the fashion trends from an emerging online community platform, Clozette. We found out that members prefer street fashion particularly from Korea, and that simplicity and casualness are the two key criteria in their day-to-day dress up. In Part II of III, beauty insights such as popular beauty brands and skincare priorities of the members are revealed.
6Estates collaborated with Clozette, an online community platform where members share news and trends based on three main categories: fashion, beauty and lifestyle. Clozette community users are predominantly millennial females. These users will share images of their latest makeup and skincare hauls, as well as pampering treatments. They review brands and show the results of their makeup routine. Part II of III focuses on the 5 beauty trends uncovered while analysing over 26000 posts.
5 Beauty Insights Uncovered from Analysing Members' Posts: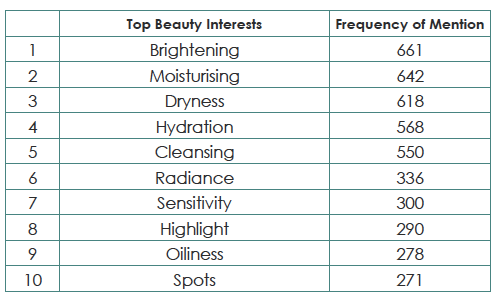 Brightening Tops the List of Beauty Interests
The top beauty interests focus on brightening up and delivering radiance to the skin, delivering moisture and keeping skin hydrated.
Cleansing seems to be a much-talked about basic but necessary step in the skincare routine. It seems that dryness in skin is talked about more frequently than oily skin. Highlighting various areas of the face, is the only beauty interest that falls under makeup rather than skincare on this list.
2. Facial Cream is a Necessary Product for Many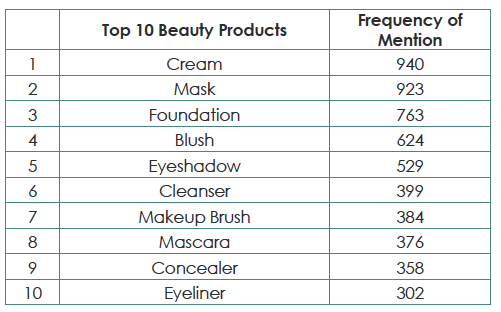 Majority of the beauty products mentioned are makeup. However, cream, mask and cleanser also make it to the top 10 products, suggesting that these are a necessary and basic part of their skincare routine.
3. Pink is Still the Most Used Colour

Pink is the most frequently mentioned colour, as it is a common colour for make-ups such as lipsticks, highlighter shade and eyeshadows. Bloggers also talk about it as a popular hair colour.
Red is usually mentioned in the context of lipstick colours. Some bloggers also shared their experiences of using skin-care products to remove red rashes on their faces.
White is a popular colour for packaging of personal care products. Mascara and charcoal masks are closely related to colour black. Brown is a popular colour for a variety of colour cosmetics, including brow pencils, eye kohls and eyeliners.
Gold is mentioned more in the context of shimmer in colour cosmetics, highlighting the face and gold rimmed makeup brushes. Blue is mentioned in packaging and lipstick.
4. Sephora Reigns as the Most Visited Online Beauty Site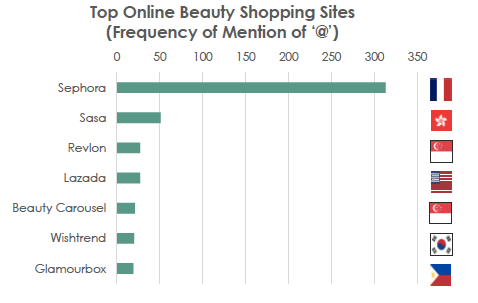 Sephora is the most frequently mentioned online beauty shopping site. This is partly because the brand was mentioned in four separate official accounts on Clozette: @sephorasg, @sephoramy, @sephoraph, and @sephora.
In terms of variety of online beauty shopping sites, most of these seem to be Asian in origin.
5. Beauty Brands from US are Members' Favourites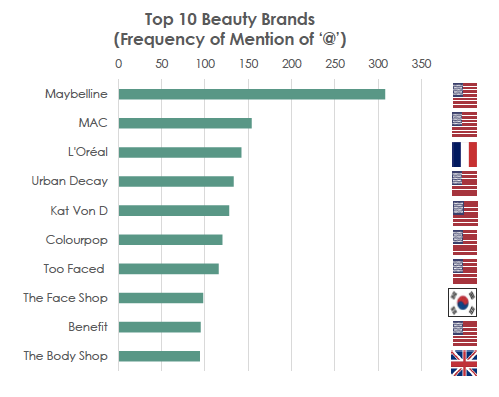 Maybelline, MAC, and L'Oréal are the top most mentioned brands on Clozette. Most of the beauty brands are from the US (7 out of 10) or Europe (2 out of 10). Only one Korean brand, The Face Shop, made it into the top 10 beauty brands.
Application of Insights
Obtaining data collected from a highly popular fashion community platform can provide excellent insights for beauty and skincare brand owners on consumers' preferences, and latest trends in the market. Brand owners can then improve on their offerings to suit their customers' wants.
In the last part of the analysis of an online community platform, we will dive into the lifestyle preferences and habits of the members from Clozette. Discover the popular destinations these millennials frequently travel to, and their favourite lifestyle brands.