For Part I and Part II of the analysis, we looked into the fashion and beauty categories of the members' post respectively. In the last part of this series, we will dive into their preferred lifestyle habits and brands, focusing on 4 major trends uncovered while analysing over 26000 posts.
6Estates collaborated with Clozette, an online community platform where members share news and trends based on three main categories: fashion, beauty and lifestyle. Clozette community users are predominantly millennial females. These users will share photos of themselves enjoying their trip, as well as their chosen outfit to accommodate the local weather and activities such as outdoor trekking or visiting them. They also share photos of themselves engaging in fitness activities, mainly yoga, and will show off their athletic wear and branded sneakers.
4 Lifestyle Habits Uncovered While Analysing the Online Community: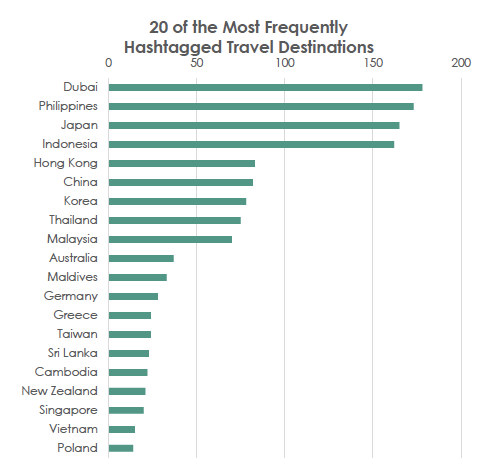 Dubai is the Choice of Travel Destination for Majority
Dubai is the most hashtagged on Clozette, followed closely by the Philippines and Japan. These destinations are mostly in Asia-Oceania, with the exception of Dubai, Germany, Greece and Poland.
Some members post multiple times during their travels, frequently using the same hashtag such as #mydubai, and this could contribute to the spike in the number of online conversations about the destination.
2. Nature is Preferred- Unless it is Physically Demanding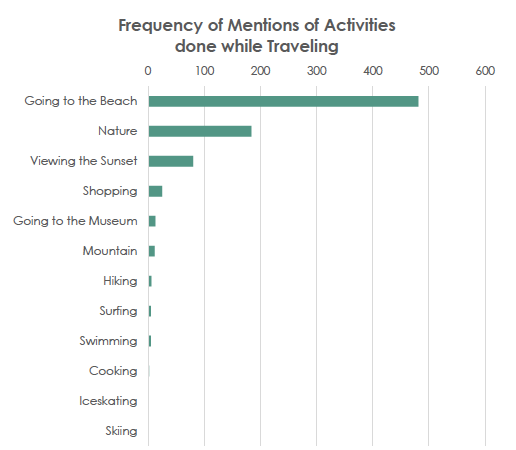 In general, simply soaking up natural scenery such as being at the beach and watching sunset are two most popular activities while travelling. It might also be because the background of nature sites are popular with members for photo taking. After nature-related activities, Clozette comunity users prefer to do more relaxed activities such as shopping and visiting museums.
The more physically demanding activities such as hiking and swimming are not as popular.
3. Most Choose Gym and Yoga to Keep Fit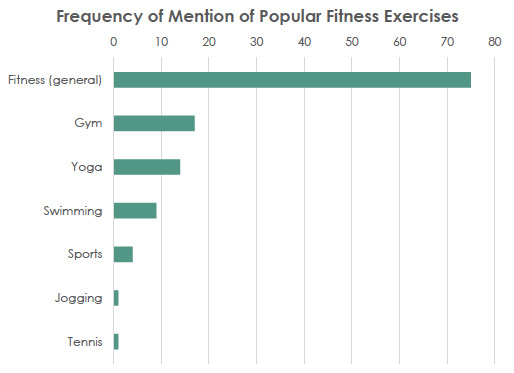 Majority of the posts mention "Fitness", but this is a general term and does not suggest a specific activity. The top two most popularly mentioned fitness exercises, and are more specified are gym and yoga.
4. Adidas is the Most Mentioned Fitness Brand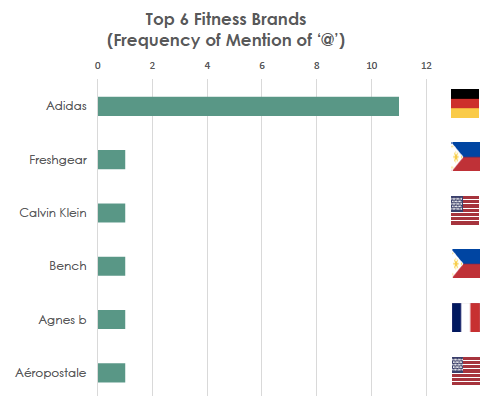 Adidas is the most popular fitness brand, mentioned perhaps in the context of gym and yoga (the two most popular fitness activities in the community). These fitness brands are either from the US, Europe (France, Germany) or the Philippines.
Application of Insights
Online communities are one of the top sources of information brand owners should look into, to get a better understanding of their target markets. Posts from the members are usually about their opinions about a certain product or service, their experience with it and what they would prefer.
In this case with Clozette, with the data collected from three different categories- fashion, beauty and lifestyle, brand owners with related offerings to similar target markets can utilise these insights to better understand their consumers' preferences and the latest trends in the market.