Another year has come and gone. Has 2017 been an amazing year for you, or a tough one? No matter! Now is the time to start afresh by setting your New Year's resolutions.
Before you do so, you may want to note that a depressing 80% of us will probably fail to adhere to our New Year Resolutions by the second week of February (according to U.S. News). What a sobering thought!
So, to inspire you to stick with your Resolutions, we would like to show you the people's 2018 Resolutions from people around the world. We have also found interesting differences between the West (represented by English-speaking Twitter users) and East (represented by Chinese-speaking Weibo users).
Amassing Big Data on Social Media
Leveraging on our patented Artificial Intelligence (AI) and Natural Language Processing (NLP) technologies, we amassed and analysed social chatters about New Year's Resolutions on 31 December 2017 and 1 January 2018. This amounted to approximately 22,000 English posts on Twitter, and 240,000 Chinese posts on Weibo.
Start the year with a Positive Mindset
It is heartwarming to see majority of netizens starting the year with a positive mindset. Chinese netizens (on Weibo) were even more optimistic looking ahead to 2018.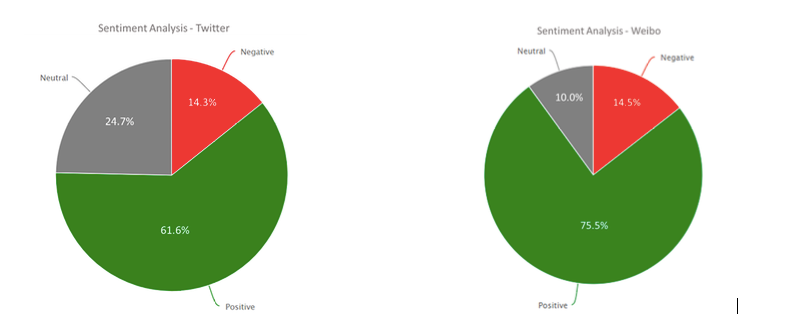 Time to Move On, Well Wishes for a Fresh Start
Most of the popular descriptive words on Twitter are positive. Twitter users concluded that it was an "amazing", "great", "best" and "wonderful" 2017 and they looked forward to a "better" 2018 with dreams coming "true".
Keywords - Adjectives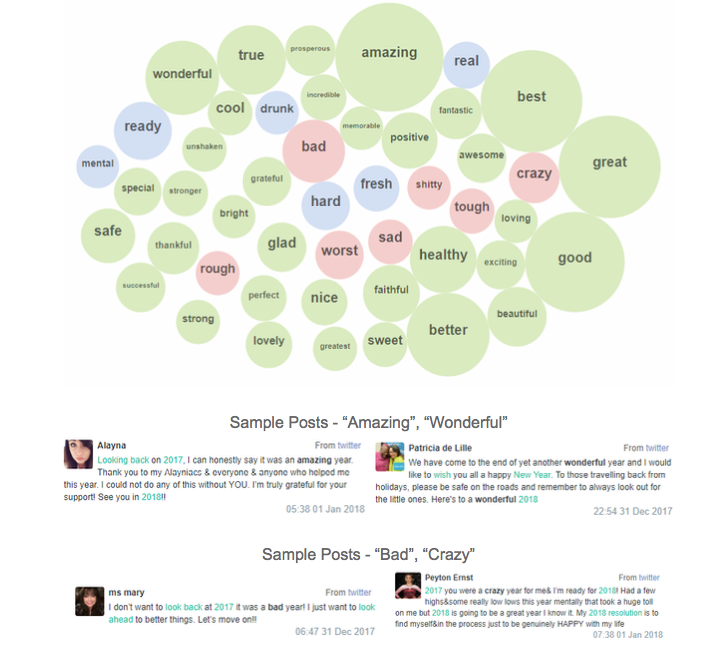 Sample Posts - "Amazing", "Wonderful"
Although 2017 was described as a "bad", "crazy" or even "worst" year for some Twitter users, during this magical moment of making New Year's resolutions, they still found positivity to start "fresh".
Sample Posts - "Bad", "Crazy"
Alcohol has also squirmed its way into New Year's Resolutions, where people took to the drink both to drown out 2017 and also celebrate 2018 by being "happy drunk".
Sample Posts - "Drunk"
The most frequently mentioned well wishes for the New Year are "happiness" (including "joy"), "love", "success", "health" and "peace". "Friends" are mentioned more often than "family" on Twitter.
Keywords - Nouns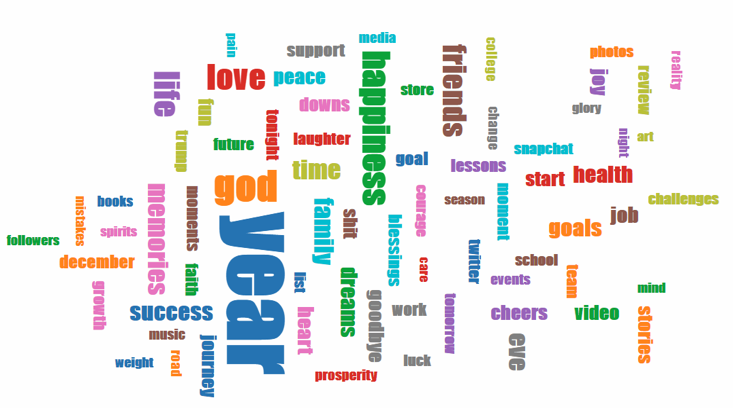 On the other hand, on Chinese social media Weibo, "safety" (平安, 平平安安) is the top wish by netizens, followed by "happiness" (开心, 幸福, 快乐, 健康快乐), "health" (健健康康, 健康, 健康快乐), "smooth process" (顺利, 顺顺利利) and "good luck" (幸运).
Top 5 WishesTwitterWeibo1HappinessSafety2LoveHappiness3SuccessHealth4HealthSmooth Process5PeaceGood Luck
Interestingly, Chinese netizens seem to drive themselves harder than those in the English-speaking world. Many said that they would "work hard (努力)" in 2018, much more often than Twitter users ("work hard" is ranked #4 on the popular keyword list of Weibo users, whereas it is ranked #24 on that of Twitter users).
Keywords - Adjectives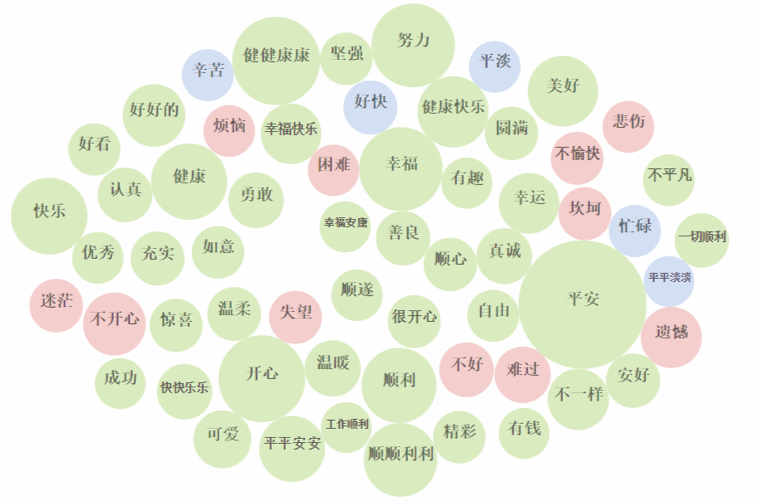 Sample Posts - "Work Hard"

Furthermore, in contrast to Twitter users, Chinese Weibo users placed more emphasis on "family" (家人, 父母, 爸妈) than "friends" (朋友) when making their resolutions online.
Keywords - Nouns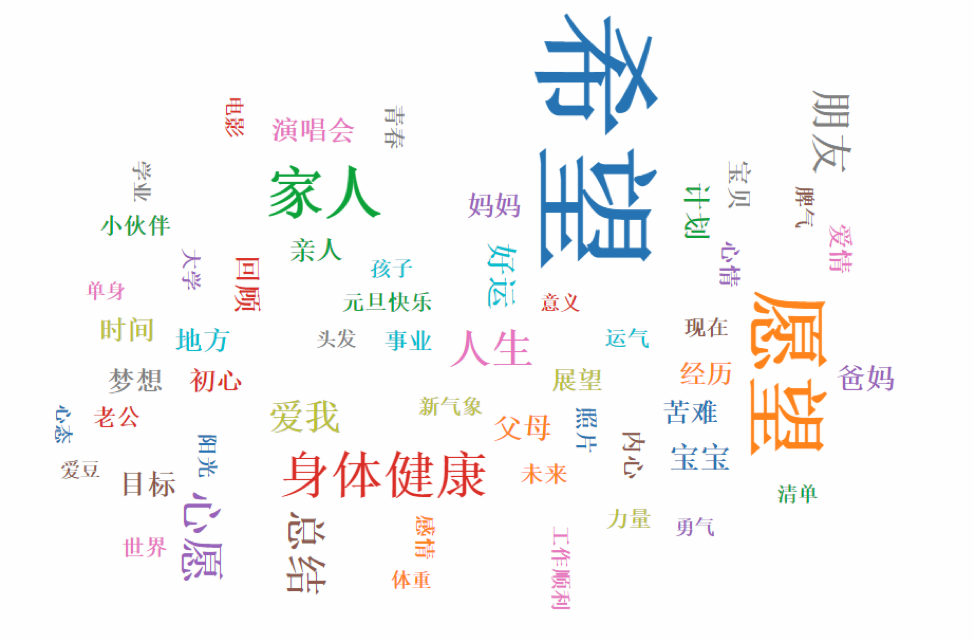 iPhone X in the Wish List of Chinese Consumers
With iPhone X's launch in China at a sky-high price of about 10,000 RMB (approximately 1,500 USD) in 2017, it has snuck into Chinese consumers' wish list for 2018. Twitter users do not seem to be as enthusiastic about the phone (or perhaps it is comparatively more affordable, and people do not see the need to place it in their wish list), as there were no mentions of it in their New Year's resolutions.
China's Post-90 Generation Enters Adulthood
As we counted down to 2018, the last batch of China's Post-90 Generation (people who were born between 1990 and 1999) has officially entered adulthood (marked as 18 years old in China). Many Chinese netizens shared memories and posted pictures of when they were 18-year-olds, regardless of how long ago that was. "Forever 18" is also one of their New Year's resolutions.
Unlike the English-speaking world's way of marking generations (Generation X, Y and Z), Chinese consumers are often segmented by their birth years, for example post-70s, post-80s, post-90s and post-00s. These generations exhibit distinct traits, as they grew up in very different stages of China's economic development. In particular, the post-90 generation is one of the most important consumer segments that many local and international brands want to connect with. This generation grew up with China's double-digit economic growth, rapid proliferation of digital technology, as well as rampant consumerism and globalization. They are the digital natives, and the driving power for consumption.
Glimpse into the Differences between West and East
By diving into New Year's resolutions of the English-speaking World (via Twitter) and China (via Weibo), we have spotted a few cultural differences:
Like the English-speakers in the West who express a desire for love and personal success, the Chinese too desire success. However, rather than simply stating a wish for success, they are very conscious of the key role they play in their own success. They commit themselves, at least in written form on social media, towards working hard (努力) for their success.
At the same time, there is a paradox in the Chinese belief in success. While the Chinese believe in being a key determinant in their own success, they also believe that some things cannot be controlled. Hence, luck (顺利, 幸运) also features prominently in their New Year Resolutions for success.
English-speakers in the West seem to have a more international outlook and may be more sensitive and concerned with the turmoil happening in different parts of the world, as "world peace" features more in their New Year Resolutions than on Weibo.
The wish for personal safety (平安) is deeply embedded in Chinese culture. It is mentioned much less in Western culture
The Chinese seem to be more willing to talk about their family on social media compared to the West.