When Amazon Go was first launched in 2016, it was thought by many to be something futuristic, something still far-off from the present day. Later in the same year, however, Alibaba Founder and Chairman, Jack Ma, re-ignited people's interest in the concept of "New Retail (新零售)" when he flashed out his vision of how "New Retail" would revolutionise the industry and his plans to venture into this area.
One year on, China has seen new forms of businesses emerge in association to "New Retail". Yet the concept continues to remain elusive and nebulous.
Chinese Businesses Explore New Retail
Across industries, businesses are scrambling to crack the code. The existing retail landscape has begun to transform: internet giants have branched into offline retail operations, and traditional brick-and-mortar businesses are rapidly expanding their business online.
For example, you may have heard of Alibaba and JingDong vying for dominance in the retail industry and trying to woo Mom and Pop stores (夫妻店), or about the huge investments that are being pumped into setting up offline retail operations.
At the same time, new forms of retail such as smart convenience stores and unmanned shelves (无人值守货架) have emerged and become part of new retail landscape. Fresh HeMa (盒马鲜生) uses a supermarket model that leverages on consumer research data and smart logistics to integrate online-offline systems, and can thus deliver fresh food to residents staying within a 3km radius, in 30 minutes. Tao Café (淘咖啡), an experimental cashierless concept store has only been introduced in Hangzhou but has captured the attention of online netizens all over the country.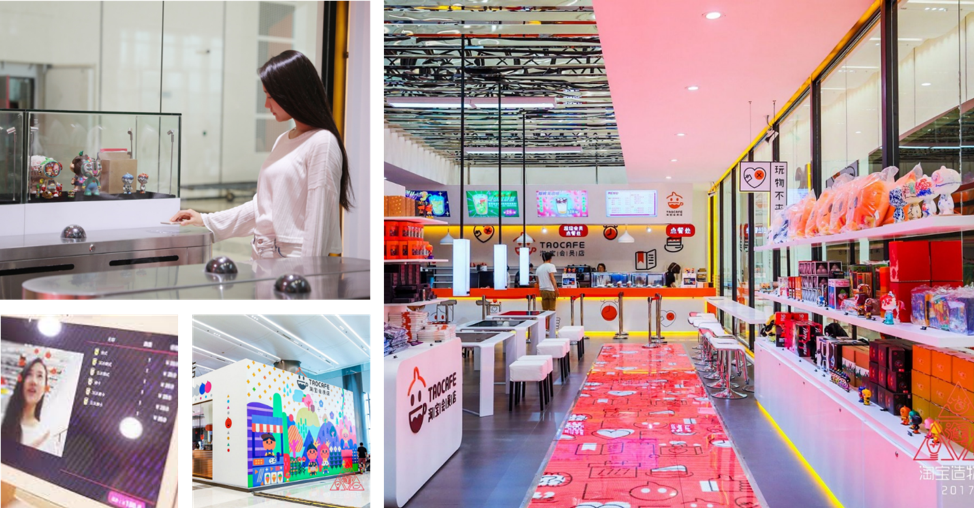 Customers can scan a QR code on Taobao app at the entrance and are tracked in-store using facial-recognition technology. They can automatically make a purchase through their smartphones without heading to a cashier.
Considering all these recent developments in China, we are curious to know what the everyday man thinks about New Retail. How has New Retail been interpreted by the masses and how will it develop in the future?
Joint-Study between TBA Creative Network and 6Estates
A study was initiated in response to this question, and saw the merging of TBA Creative Network's experience in offline creative brand activation and industry knowledge, with 6Estates' Artificial Intelligence (A.I.) technology that performs market research and amasses and analyses big data online.
This collaboration has culminated in an Insights Report on the Development of New Retail. We have chosen a few interesting insights to share.
Public Perception of New Retail
Alibaba defines New Retail as "a broader, more fluid concept of retail that is data-driven and consumer experience centric". This would require a re-imagining of the retail structure which consists of three main components: the consumer (人), goods and services(货)and the retail scene (场).
Under this concept of New Retail, industry terms like O2O is outdated. The question is no longer just about businesses going online or offline, but rather O AND O – which is a seamless integration of online and offline businesses, as well as modern logistics. The result would be a unified and wholesome consumer experience.
We capitalized on our A.I. technology for media monitoring to analyse online conversations and extracted words that are popularly used by Chinese netizens to describe New Retail. We can visualize public opinion using the following diagram.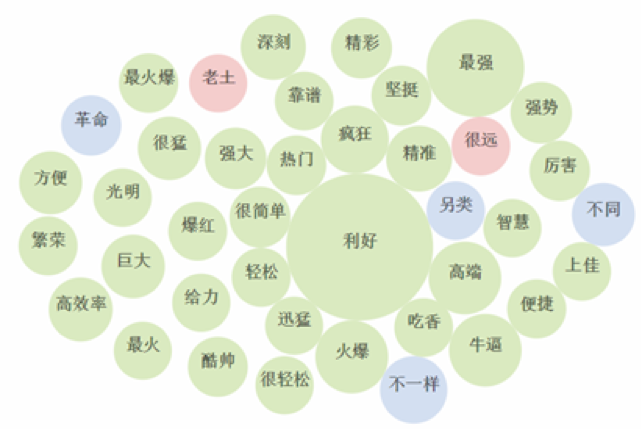 Words frequently used by online Chinese netizens to describe New Retail
The green bubbles have been identified as words that carry positive meaning, the red bubbles are words that carry negative meaning and the blue bubbles are words that are considered neutral.
The size of the bubble is proportional to the frequency at which people use those words to describe New Retail.
1. Awe-struck and Excited Netizens
Many netizens felt that New Retail is a superb and awesome (牛X, 厉害), concept. It is currently a very popular term (火爆,爆红,最火)in China and netizens expected it to be a strong (疯狂,很猛,强势), incoming trend that will sweep across the country.
Online netizens also felt that New Retail is revolutionary(革命) and different (不一样/不同). It is highly efficient(高效率), offers greater convenience(方便), and is thought to occupy a high-end (高端) space in the retail landscape. It is a powerful force (深刻) that will bring immense (巨大)changes and room for development tin the retail industry.
Online netizens anticipate the future of New Retail to be an exciting(精彩)one.
2. The Nay-sayers and Skeptics
A small percentage of netizens felt that the essence(实质)and the operations model (模式)of New Retail were rather simple (很简单). A few also felt that Jack Ma's concept of New Retail is somewhat outdated (老土)as compared to Virtual Reality (VR).
Some also felt that New Retail still has a long way to go 很远)and what forms and manifestations it will assume is still unclear.
3. About the Technologies Utilised
New Retail seamlessly integrates offline and online customer data collected through predictive analytics, and then applies big data and algorithms to make customer management, marketing and the entire process of delivering the product to the customer, even more accurate (精准). For example, in the case of Fresh He Ma supermarket, all the purchases of customers are recorded no matter if they buy the product online or in-store, and this can be used to determine customer preference and provide personalized product suggestions.
Deconstructing New Retail
Based on industry knowledge, TBA Creative Network outlined key components of New Retail in the following 3-Tier Framework.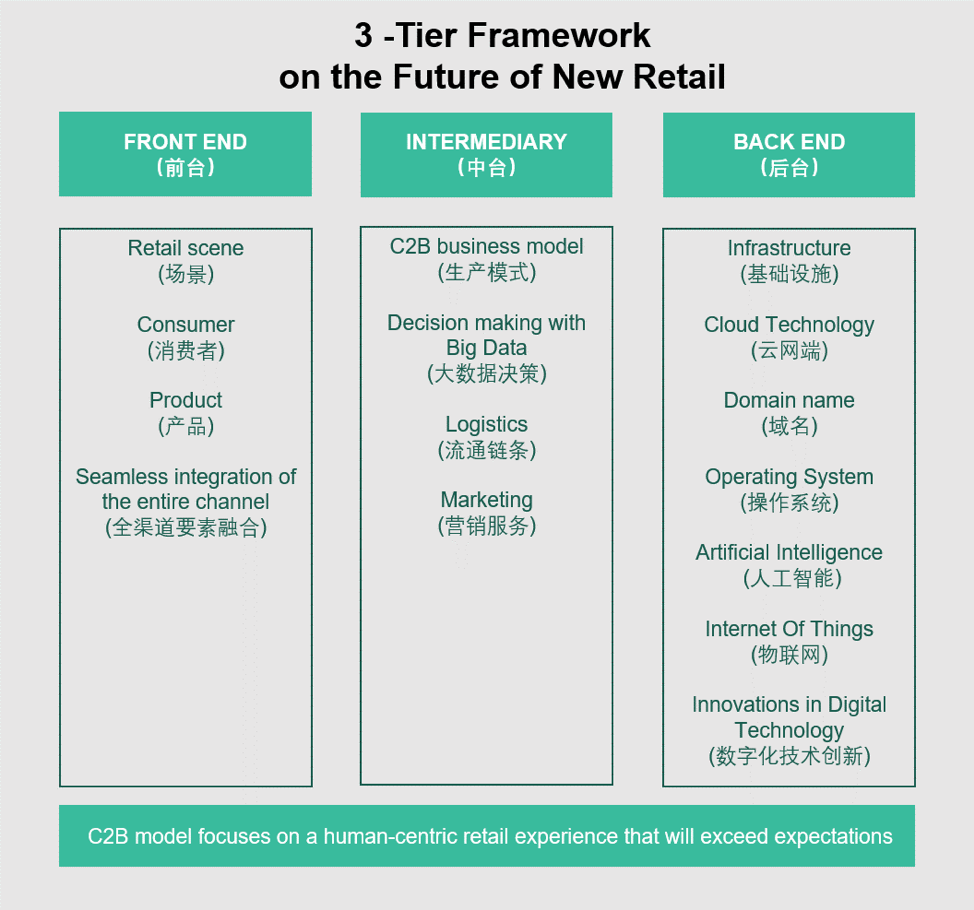 On our side, 6Estates sifted through public online conversations on social media, forums, news media, etc. By using our AI integrated social media monitoring tools and Natural Language Processing (NLP) techniques, we could identify keywords that people used when mentioning New Retail.
We collated the top 20 keywords used by online netizens as well as for news media. By adding in the human lens, we were able to categorise them meaningfully.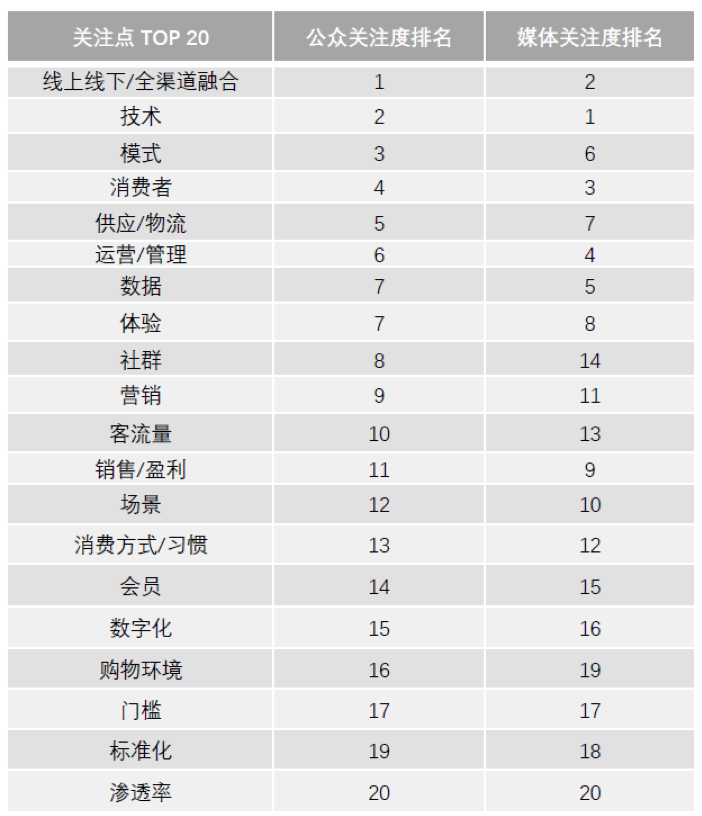 Using NLP and machine learning, we were able to identify the keywords mentioned in relation to New Retail. Then, using our human lens, we were able to cluster these keywords meaningfully. These keywords have been ranked based on frequency of mentions.
We found that our keywords could be clustered in a way that mirrored the three tiers described in TBA Creative Network's 3-Tier Framework. It is both interesting and reassuring to find this corroboration between online and offline data.
Front End: Re-framing the Consumer, Goods and Services and Retail Scene Consumer-centric, understanding the purchase behavior of the consumer. Superior consumer shopping experience and environment. Creating more avenues for consumption. Seamless integration of online and offline channels.
Intermediary: Streamlining Processes Making Logistics, Operations Management, Marketing and Sales and more digitalised and standardized. Data-driven decision making. Connect online and offline membership schemes. Community management.
Back End: Innovation in Technology Use of Artificial Intelligence, Internet of Things, Cloud Computing, etc.
Wide Range of Industries Exploring New Retail
For the scope of this study, we wanted to discover the various industries who were exploring the concept of New Retail, and only those who were in direct contact with consumers. Hence, referring to the TBA Creative Network's 3-Tier Framework, we focused on finding industries related to the "Front End" and did not analyse those for the "Intermediary" and "Back End" which would touch upon logistics, technology and payments.
To discover these industries, we delved into the field of Artificial Intelligence and applied unsupervised learning as well as specifically, the Topic Model to discover the abstract topics (in our case, this refers to industries) that appear in the online data we had amassed.
We found a surprising number and range of industries who are highly interested in New Retail and were already exploring ways to implement it.
Supermarket (including shopping mall, convenience store, unmanned shelves)
Travel
Healthcare
Electronics
Automobile
Furniture for Home Living
Fashion (fast fashion and luxury)
F& B (including soft drinks and health supplements)
Maternal and Infant Care
Internet and Online industry (including non-ecommerce industries)
Future Forward: Creative Interpretations of New Retail
It is not just smart convenience stores and retail businesses but also industries such as automobile and electronics who are actively exploring ways to lend physical form to this new and fluid concept.
While the basic principles about the consumer, goods and services and the retail scene (人,货,场) are already known, there is still plenty of room for creative exploration. Different industries and businesses need to determine which specific technologies to adopt, and how to use big data analytics tools to streamline business processes and to provide a better customer experience.
About the Data used by 6Estates Time frame of data collected: 1 May 2017 – 31 Oct 2017Data Sources: Relevant data was amassed from a total of 15 sources covering social media, online news, traditional media, Q& A forums. The data amounted to 70,790 posts.
This study is a collaborative effort between 6Estates and TBA Creative Network.