We have teamed up with Skyscanner, a global travel search platform, to publish China's Outbound Travel Experience Report 2017.
Big Takeaways
The report revealed that airlines in the Asia-Pacific region are well-received by Chinese travelers, and Singapore Airlines is among the top 3 airlines known for its service, meal quality and inflight entertainment. The data collected through this digital ethnography research also reveals that Chinese travelers are very detail-oriented when it comes to airline companies and airports, and they demand and expect service with a human touch.

For this study, we capitalized on our unique big data analytics tools integrated with Artificial Intelligence (A.I.) technology and algorithm to analyse and identify the best airline based on the three main factors that affect passenger comfort aboard flight: quality of service, quality of inflight meals and inflight entertainment.
Top 10 Considerations for Flight Comfort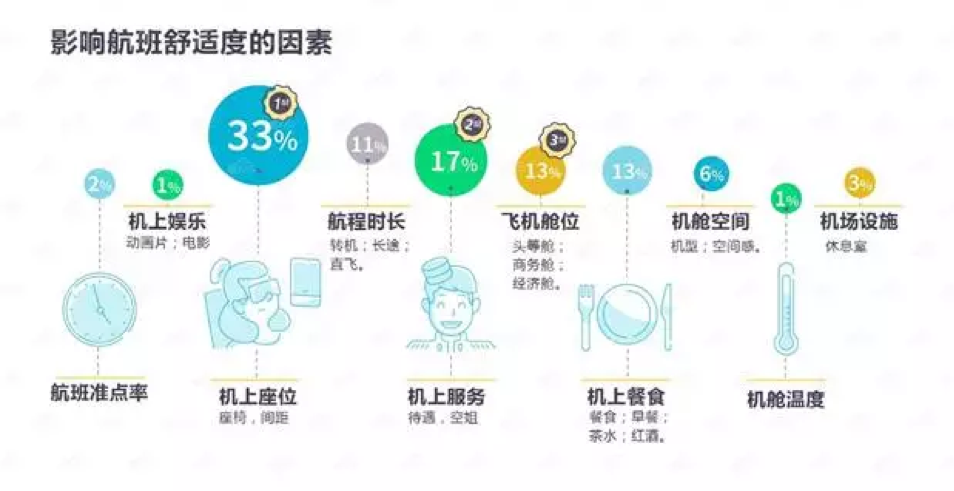 One of the biggest and perhaps most obvious consideration for flight comfort are seats. This is cited by 33% of all consumers in our data collected by conducting a thorough market research. Seat comfort is especially important to Chinese consumers, especially during long-distance flights where one spends hours strapped to the seat. Key considerations for airline seats are the size, material, adjustability and the space between the seats.
Using social media monitoring tools we analysed the consumers and based on the conclusions it was found out that the second largest contributor to flight comfort is the service provided to the passengers, with 17% of Chinese consumers attaching great importance to this. They judged service based on the level of detail and thoughtfulness.
Airline cabin classes (E.g. Business, Economy) and the inflight meal ranked third and fourth respectively.
Other considerations also include aircraft space and capacity, aircraft facilities, the timeliness of flight takeoff, the temperature within the aircraft and inflight entertainment contributed at varying levels to overall flight comfort. Predictive analytics and sentiment analysis made it possible to research the Chinese market and its consumers that lead to the ranking of the mentioned services.
All Nippon Airways ranks 1st for High Service Standards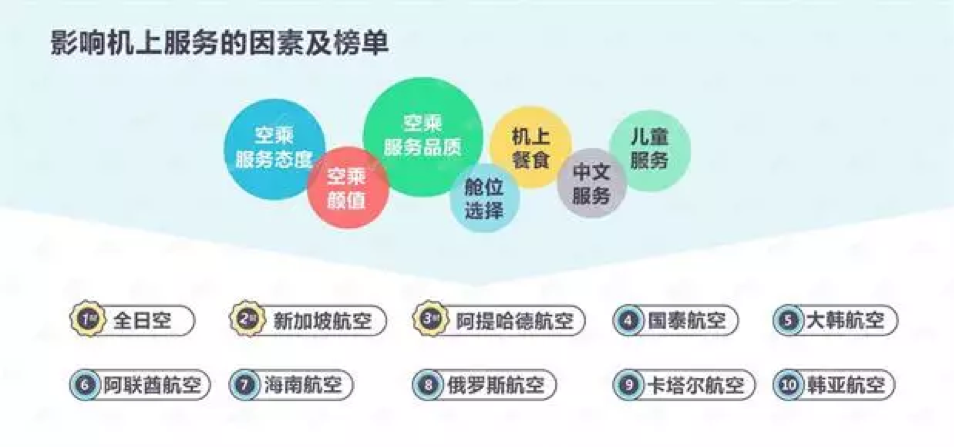 Aspects of Service that are focused on by Chinese Travelers
Service Attitude of Air Crew
External Presentation and Appearance of Air Crew
Quality of Service by The Air Crew
Seat Selection
In-Flight Meals
Chinese Speaking Services
Children-friendly Services
The service and attitude of the air crew directly affects passengers' flight experience. Chinese outbound tourists are detail-oriented and have greater demand and expectation for service that is human-centered.
Particularly for Chinese travelers, the availability of Chinese language services and how the service crew tries to accommodate for children also influences their impression of an airline company.
Chinese outbound travelers have a good impression of airline companies in the Asia-Pacific region and All Nippon Airways came in first for service, scoring 88 out of a 100. All Nippon Airways crew were also professional and thoughtful. Singapore Airlines placed second, followed by Etihad Airways and Cathay Pacific Airlines.
Only one domestic Chinese airline company, Hainan airlines, earned a spot among the top 10 airlines known for their service. Hainan airlines came in at 7th place, scoring 58 out of a 100.
Top 10 Airlines known for their Service Standards
Nippon Airways
Singapore Airlines
Etihad Airways
Cathay Pacific
Korean Air
Emirates
Hainan Airlines
Aeroflot
Qatar Airways
Asiana Airlines
Singapore Airlines and Cathy Pacific Tie for the Best Airline Food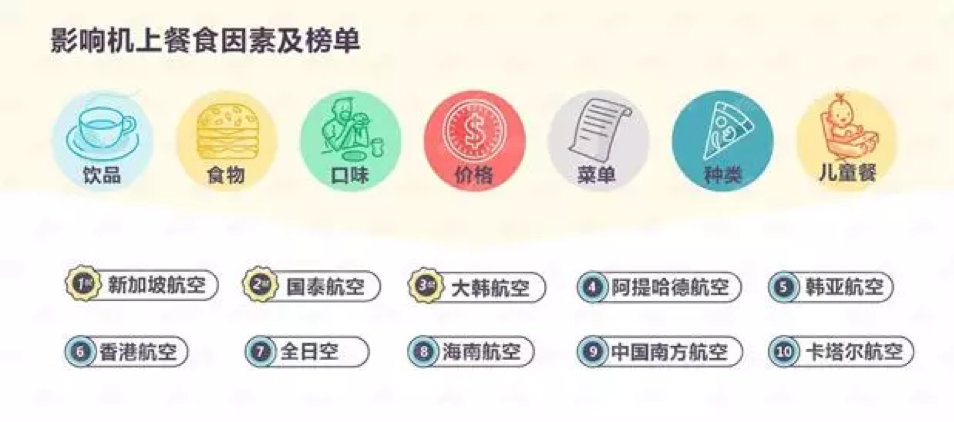 Inflight meals are a key consideration for Chinese travelers when judging an airline's service standard. Taste, variety and the flexibility of choosing from various menu options determines the quality of the inflight meal. Moreover, with the rise of family travel, parents are increasingly concerned about the quality of children's meals.
Singapore Airlines and Cathay Pacific Airlines tie for first place, as both airlines provide a high quality of food and good presentation of food. Korean Air's Bibimbap, seaweed soup and unique Korean food were also popular with Chinese travelers. Etihad Airways' Middle Eastern cuisine as well as All Nippon Airways' bento were also among the top 10 airlines known for their food. Hainan airlines and China Southern airlines were also made it to the top 10 list.
Top 10 Airlines known for their Food
Singapore Airlines
Cathay Pacific
Korean Air
Etihad Airways
Asiana Airlines
Hong Kong Airlines
Nippon Airways
Hainan Airlines
China Southern Airlines
Qatar Airways
Singapore Airlines and Emirates provide the Best Entertainment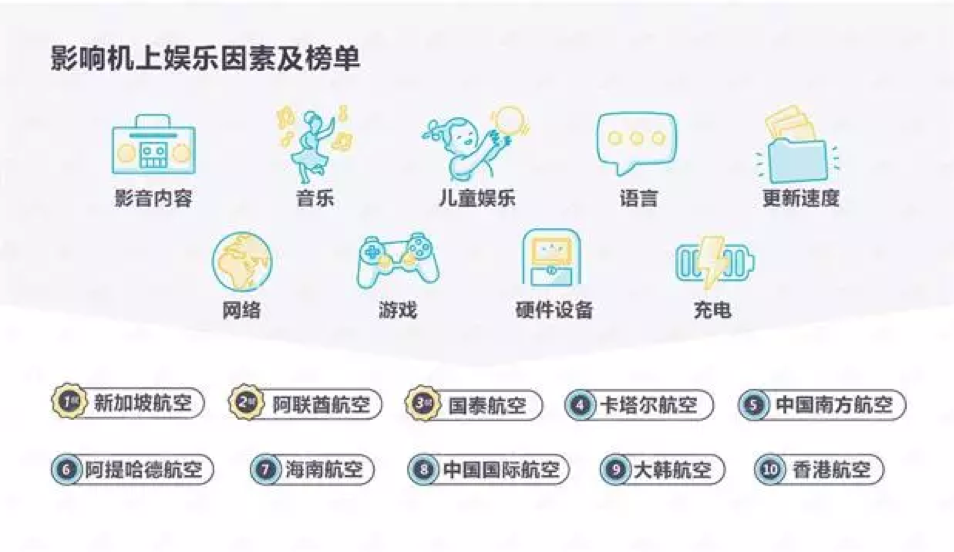 What Chinese Consumers focus on for Inflight Entertainment
Movie Content
WIFI
Music
Games
Children's Entertainment
Quality of Facilities
Language
Charging Port
Latest Offering on Content
For passengers on long-distance flights, the quality of the entertainment facilities has a large impact on their flight experience. A comprehensive assortment of entertainment channels and television programs, availability of charging facilities to recharge mobile phones and tablets, the quality of the screen display as well as WI-FI coverage allows passengers to travel comfortably during their long flight.
Singapore Airlines won first place in the "Best in-flight Entertainment", followed by Emirates which has repeatedly won the Best Inflight Entertainment Award at the SKYTRAX World Airline Awards.
Top 10 Airlines known for their Inflight Entertainment
Singapore Airlines
Emirates
Cathay Pacific
Qatar Airways
China Southern Airlines
Etihad Airways
Hainan Airlines
Air China
Korean Air
Hong Kong Airlines
By using social listening tools to analyse the online data on Chinese travelers regarding their inflight experience, airline companies can better understand what Chinese travelers expect and focus on during their flight, and can work to remedy any deficiencies. This way, they can continue to woo and stay relevant to Chinese travelers.
This is a collaborative study between 6Estates and Skyscanner.