Here we examine how digital opinion mining can be applied to the F&B industry in Singapore, and how a food trend is studied using artificial intelligence. A comparison on the once popular Korean fried chicken, and one of Singapore's prized dish- chicken rice, was observed. It is encouraging to discover that despite the rise of many foreign establishments, local dishes are still high in demand.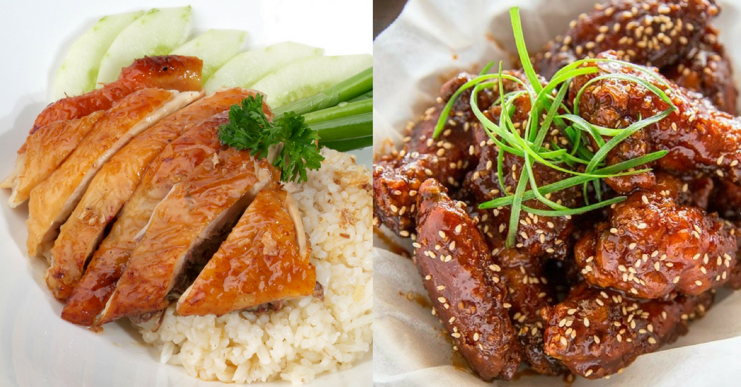 In the previous two-part introduction of utilising digital opinion mining, numerous topics were explored. In Part 1, we looked into the challenges F&B companies commonly face and how there is a growing number of technologies these industry players can adopt to uncover deeper market insights. Part 2 highlighted the importance of online feedback and the opportunity to identify food trends with machine learning and innovating new dishes with natural language processing.
F&B Industry in Singapore: Opportunities & Challenges
Singapore has long been touted a food paradise amongst locals and tourists alike. It is widely recognised as one of Asia's food capitals, alongside cities like Tokyo and Hong Kong. From street food to fine dining restaurants, Singapore establishments have received Michelin Stars, and some have gained international popularity.
As a popular regional tourist destination, many overseas food establishments have set up branches here to showcase and introduce their cuisines and brought new culinary experiences to the food lovers in Singapore. While these factors represent excellent market conditions for the adventurous and taste-loving restauranteurs, there are many challenges ahead.
With less than 35% of F&B establishments getting satisfaction rating of 4.5/5, we believe consumers are setting higher expectations towards their dining experience and F&B providers need to invest more effort to satisfy these hungry consumers.
To truly understand the F&B trend, an individual must read and analyse thousands of reviews, posts from food influencers, to stay abreast in the happenings of the F&B world and to seek inspiration for their next dish. The rich online information today is fast becoming equally valuable in monitoring one's own brand and the competitive landscape. The Top 10 Food Reviewer in Singapore wrote a total of 578 reviews in 2017 and total food reviews among the various portals totalled more than 6,800 in the same year. It is not humanly possible to analyse all this information without the aid of big data tools.
Restaurant Landscape In 2016 and 2017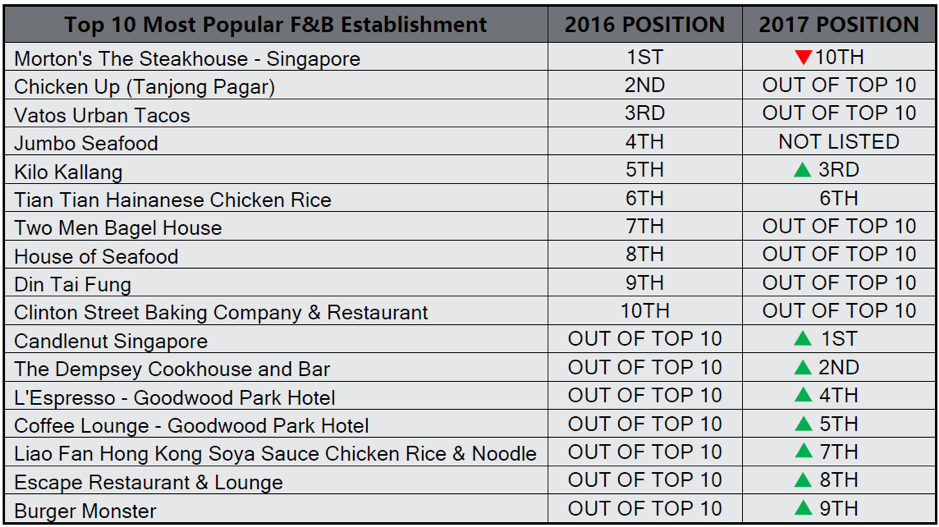 The table reflected interesting results- the decline of the Korean fried chicken craze as well as the longevity of the ever-popular Singaporean dish, chicken rice.
Trend Study of Korean Fried Chicken- The Rise & Fall
This is about the sweet and spicy Korean fried chicken that Singaporeans were crazy about and this fad gained its maximum hype in 2015. Chicken Up, a Korean restaurant known for its Korean fried chicken dish rose to become 1st place in the Top 10 Most Popular F&B Establishment chart in 2015 and dropped slightly to 2nd place in 2016.

In 2017, the interest level for this spicy, savoury dish seemed to have gone downhill, and disappeared from the Top 10 Most Popular F&B Establishment chart in 2017.
However, chicken rice, one of the most popular dish among Singaporeans and tourists remains as a popular choice to satisfy the hunger of food consumers today.
The All Time Favourite- Chicken Rice
One of the most prominent establishment to serve this dish is Tian Tian Hainanese Chicken Rice. It is observed that Tian Tian Hainanese Chicken Rice remained in the Top 10 Most Popular F&B Establishment chart consistently and stayed in the 6th position in 2016 & 2017. We believe 2018 will be another great year for Tian Tian Hainanese Chicken Rice in Singapore, and perhaps in Hong Kong where it has recently opened its first outlet.
Not forgetting the famous Hawker Chan and his Liao Fan Hong Kong Soya Sauce Chicken Rice Noodle. This restaurant made into the Top 10 Most Popular F&B Establishment chart in 2017 and we believe it is likely to maintain its popularity in 2018 ahead.
Through the data we have compiled, chicken remains to be the most popular type of meat consumed in Singapore. This is not surprising as chicken is more readily available in F&B establishments and is not restricted by the major religious groups in Singapore.

The Dynamic Nature of F&B Landscape
Food informational portal, aggregated reservation platforms and proliferation of food blogging have led to consumers gaining extensive ways to gather information and to decide what to have for their next meal. Will the dish you serve be forgotten like Korean Fried Chicken, or be evergreen like Chicken Rice?
Food consumers are hungry for new experiences and current providers must put in the extra mile to stay relevant. Without keeping abreast to consumer trends and innovating ahead, providers may one day uncover the brutality of the F&B industry and be replaced.
Today's world is a dynamic and challenging one. While Asian consumers are becoming sophisticated in their choices, and the F&B industry must consistently keep up with the changes, technological solutions have already emerged to navigate this dynamic landscape.
As natural language processing and machine learning continue to progress, and the growth of digital information is not likely to slow down, these new technological solutions will play an increasingly important and even integral role in F&B industry players' strategy to remain relevant to their market and customers.