This is Part II of II analysis on how digital analytics and opinion mining can help F&B businesses stay on top of their game, understand consumer trends, and be up-to-date with what is happening in the dynamic F&B market.
This article was written in collaboration with Institute of Asian Consumer Insight.
Capturing the Sophisticated, Pleasure-Seeking Asian Foodie
The food and beverage industry is notoriously competitive, and never more so than in Asia, home to many of the top online food bloggers and the everyday man who makes it a point to document their food adventures locally and overseas. As Asia continues to lead in global outbound trips1, consumers are increasingly exposed to exotic cuisines and novel food adventures. They have become sophisticated in their dining options and want to indulge in exciting, new and pleasurable experiences.
The F&B industry has responded in kind by bringing in international cuisines and churning out innovative dish after dish to stay relevant to the Asian consumer.
How then can F&B industry players stand out from the competition, and keep up with rapidly evolving consumer preferences?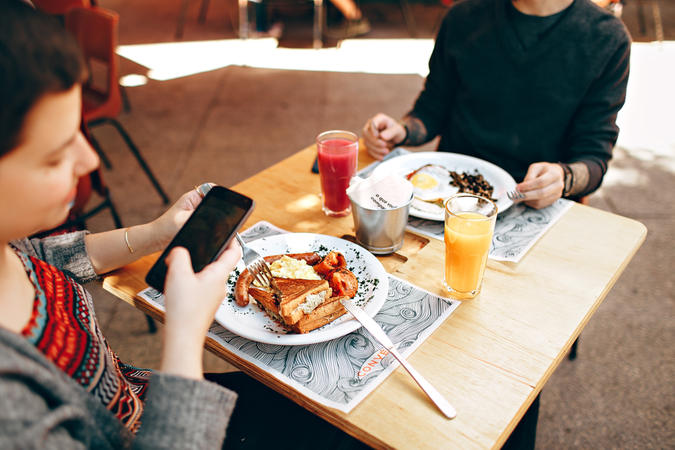 Untapped Opportunities in the Information Age
The F&B industry is no stranger to utilizing digital platforms and new technologies to help them gain a competitive edge. They have established a social media presence in order to manage customer feedback and regularly post content to keep consumers engaged.
However, the Information Age that we live in now offers many more possibilities than is currently tapped upon. The rise of the digital consumer – one who spends a significant portion of their time searching and sharing information online as well as connecting with others socially – has led to a boom in online information.
Take food review sites such as Zomato, OpenTable and Yelp. There is a constant stream of information as consumers chime in on a certain food establishment, rave about the new kid on the block or rant about the poor service they received. Food review sites have amassed tons of information about consumers, all these done freely and enthusiastically by consumers themselves.
Previously, F&B industry players could only rely on regular qualitative and quantitative market research to keep up-to-date on the ever-changing market and consumer profile. However, the rich online information today is fast becoming equally valuable in monitoring one's own brand and the competitive landscape.
When the rich online information today is paired with advancements in AI technology, relatively cheap and quick solutions emerge. These new solutions complement traditional market research, as the F&B industry players gain a more comprehensive understanding of the consumer by analyzing what they say in both the physical and digital worlds.
Uncovering Deeper Insights with New Technologies
The application of new technologies such as Natural Language Processing and Machine Learning help mine the huge volume of online data and distill them down into market and consumer insights. These are relatively cheap, quick, and allows one to respond timely to some of the industry's key challenges today – shifting consumer preferences and the need to constantly delight customers so they keep coming back for more.
The amassing of digital information from food review websites and displaying of key information on a user-friendly digital platform is nothing new. For example, information from Zomato, such as the total number of food establishments by cuisine and location, the top food establishment and so on can be aggregated and plugged onto a digital platform for managers to explore and analyze.
Yet much more can be done with the same data using these new technologies. They can be that competitive edge as F&B industry players will better understand their consumers' feedback, are able to catch on to emerging food trends quickly and even get inspired to make innovative dishes that have mass appeal.
Reading Between the Lines Using Natural Language Processing
On food review sites, feedback is abundant but reading each and every review is a massive and tedious undertaking. Moreover, the ratings that consumers award to food establishments for their experiences are one-dimensional and overly-simplistic. F&B industry players have no way of understanding why a score of 3.0 or 4.5 was given unless they read the entire review. This score seems even less useful in reflecting true customer experience when one considers that different customers have different expectations of the same F&B establishment, and a score of 3.0 for one customer is not necessarily equal to 3.0 for another.
Instead, analyzing reviews via Sentiment Analysis offers a deeper understanding into the emotions of the customer. Natural Language Processing is used to sift through individual reviews and determine if the post is overall positive, negative or neutral based on the words used to describe the customer experience. This can be done on a massive scale without expending unnecessary human effort.
Innovation with Natural Language Processing
To an F&B industry player pushing the boundaries of innovation, Natural Language Processing is able to provide inspiration to chefs who are tasked with creating novel dishes that can also capture mass appeal. Natural Language Processing can identify which of the words consumers used in their reviews are ingredients and which words are dishes. Machine Learning helps to process massive volumes of reviews to finally deliver to the chefs a list of the most popular ingredients and dishes that are mentioned by customers. This can be a starting point for chefs in their choice of ingredients and dishes they wish to create.
They can even select any ingredient or dish mentioned in customer reviews, to see what are the word associations people have used in their food reviews. For example, a salad as a dish may be associated with words like "fresh", "clean" and "aromatic". These may inspire the chef to create a salad dish based on this theme or he may want to surprise customers by creating a salad that evokes a totally different experience.
Predicting Food Trends with Machine Learning
To stay competitive and grow in this F&B industry, one must not only react timely to industry changes, but must also pick up on the subtle shifts in market and consumer preferences and position oneself strategically to capture future opportunities.
Machine Learning is able to analyse historical data, such as the rise and fall of food trends and the changes in popularity of certain cuisines over time. With initial human input and by studying past food trends, the machine can build a prediction model that flags emerging food trends that seem set to achieve mass appeal.
By giving the machine plenty of opportunities to learn and fine-tune the prediction model, one may even be able to predict which food trends are short-lived fads, and which are more enduring trends in the F&B industry. With this information, industry players can make early, strategic decisions to capitalize on the emerging food trends rather than becoming late adopters.
A Future that is Challenging but also Promises Solutions
Today's world is a dynamic and challenging one. While Asian consumers are becoming sophisticated in their choices, and the F&B industry must consistently keep up with the changes, technological solutions have already emerged to navigate this dynamic landscape.
As Natural Language Processing and Machine Learning continues to progress, and the growth of digital information is not likely to slow down, these new technological solutions will play an increasingly important and even integral role in F&B industry players' strategy to remain relevant to their market and customers.